Kitty Boarding
Cats are special, too, at Brookwood Pet Resort!
Kitting Boarding includes:
A separate bright, sunny, comfortable room just off our main lobby.
A large window facing our wooded outdoors and a second large window allowing our feline guests a chance to watch our visitors come and go.
Their own ventilation system exchanging the air about nine times per hour.
A turn having the run of the room with a sunny perch in the window or a wicker basket to watch the activity in the waiting room.
Other pets are accepted on a case-by-case basis.
Boarding & Day Camp Agreement
Attention first time campers! Download the Brookwood Boarding Agreement (.pdf)  and fax, email, or bring in with you when you arrive.
Lobby Hours
Drop off and pick up occurs at the following times:
Monday through Friday: 7:00 am to 10:00 am & 4:00 pm to 6:00 pm
Saturday: 8:00 am to 12:00 noon
Sunday: 4:00 pm to 6:00 pm
We're very proud of Brookwood Pet Resort and will gladly give a tour during our lobby hours. Please note that our lobby is closed on major holidays.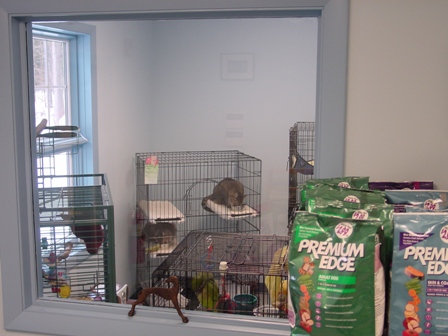 View of Kitty Room through the Lobby Window