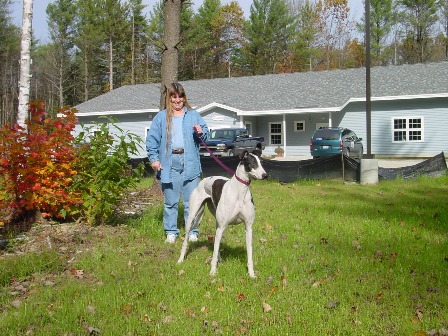 Carol Landry with Greyhound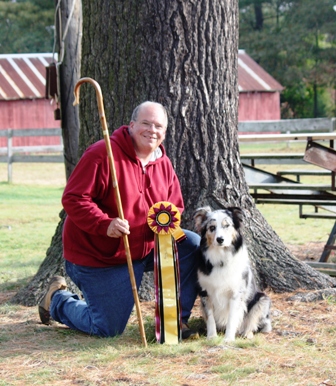 Brookwood Pet Resort is honored to have an experienced dedicated staff, many of whom have been with us for several years: Mark (Day Camp Manager – since we opened in 2004), Kevin (since 2004), & Kathy (since 2005).
Carol & Art Landry co own and manage Brookwood Pet Resort. Carol started in the pet care industry almost thirty years ago as an attendant and assistant kennel manager before designing and building Brookwood, along with her husband, Art. She has had dogs all her life but began competition with Lady, her Dalmatian, in the '90s and earned national rankings in obedience. At the same time Art was competing with his Dalmatian, Camel, and earned national recognition as well. Art & Carol left competition for a time devoting themselves to Greyhound rescue and forming Tailwind Greyhound Adoption program. They fostered and placed hundreds of ex-racing greyhounds along the way. Brookwood was born of a need to spend as much time as possible with dogs and to somehow make a living. They pride themselves on putting quality care and a positive experience for every dog above all else. Carol and Art have returned to competition and their current dogs have had terrific success. Both teach Obedience and Agility classes at Brookwood and Art offers Herding lessons as well.
Rebekah Sutherland is our certified groomer extraordinaire and has been with Brookwood since we opened in 2004. She grew up in Contoocook with 2 brothers. Rebekah (we call her "Becky") showed sheep, horses and her old dog Cricket while in 4-H. Yes, old dogs can learn new tricks! She started grooming from home after serving her apprenticeship and has over 20 years experience. She offers a variety of services including nail trimming and dremeling, ear cleaning, anal extraction, teeth brushing, nail polishing, hand scissoring, hot oil treatments, clipping, flea and tick shampooing, skunk shampooing, and so on…..meeting your pet's every grooming need.
Our Dogs (at least some of them)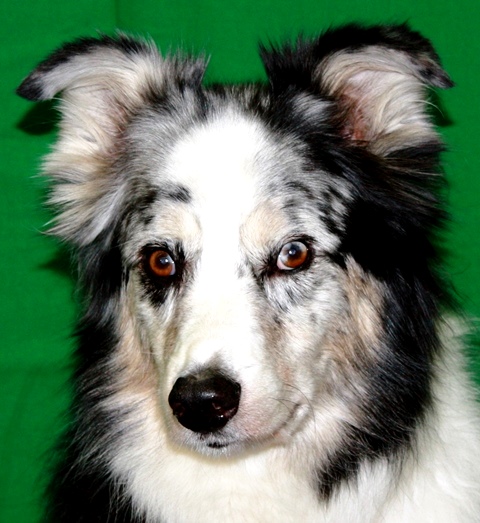 Tugboat
ATCH-II SPCH PCH WTCH BROOKWOOD'S TUGBOAT UD OFTDdsm, AKC CDX RE CGC:
Tugboat is an Australian Shepherd and is Art's pride and joy. Since Tug's birth in July 2005 they have been a devoted team. First and foremost, they just plain like and respect each other. From there they've gone on to accomplish great things earning countless first places, numerous titles, multiple High in Trials and lots of awards. They compete primarily in Australian Shepherd Club of America sanctioned events.  In Obedience Tugboat has earned his Companion Dog Excellent (CDX) title including a HIT score of 197½. In Herding Tugboat has earned his Working Trial Championship (WTCH) with countless HITs along the way. Tugboat recently (June 2010) finished his Agility Trial Championship and has also captured the rare honor of earning his Performance Championship (PCH). Tugboat has also seen limited competition in AKC events but has earned his Companion Dog Excellent title, his Rally Excellent title and has received Canine Good Citizen (CGC) certification. He also was certified as a therapy dog by Therapy Dog International (TDI). Tugboat continues to compete and has now earned his Utility Dog (UD) title and is only the 13th dog to have ever earned the Supreme Performance Championship (SPCH). On September 3, 2013 Tugboat earned his AYCHII title.
At nearly nine years young, Tugboat has slowed down just a bit but still has lots of accomplishments yet to go. To date Tugboat's achievements include:
2007 Australian Club of New England (ASCNE) Register of Merit (ROM) Performance Champion
2007 ASCNE ROM Obedience Open A Reserve Champion
2008 ASCNE ROM Agility Champion for Open Jumpers and Open Regular
2008 ASCNE ROM Obedience Open B Champion
2008 ASCNE ROM Advanced Stock Dog Champion for Cattle and Ducks and Reserve Champion for Sheep
2008 ASCNE ROM Open Stock Dog Reserve Champion for Cattle
2008 / 2009 Australian Shepherd Club of America (ASCA) Merit Award Winner for Advanced Cattle (6th) and Advanced Ducks (1)
2009 ASCA Nationals Obedience Reserve Finalist
2009 ASCA Nationals MVA Qualifier
2009 ASCA Nationals Stock Dog Finalist taking 10th place Cattle, 8th place Ducks, 11th place Sheep
2009 ASCA Nationals Stock Dog Advanced Ducks second place finisher.
2009 ASCNE ROM Agility Reserve Champion for Elite Regular
2009 ASCNE ROM Advanced Stock Dog Champion for Ducks
2009 ASCNE ROM Performance Champion
2010 ASCA Nationals Stock Dog Advanced Ducks Finalist
2010 ASCA Nationals Agility Finalist  (ranked 7th place nationally among non-ATCH qualifiers)
2010 ASCNE ROM Agility Reserve Champion for Elite Gamblers
2011 ASCA Nationals Stock Dog Advanced Cattle Finalist
2011 ASCA Nationals Most Versatile Aussie qualifier and 4th place overall!
2011 ASCNE Colors of Summer Most Versatile Aussie 1st place, High Combined Stockdog, High Combined Obedience dog
2011 ASCNE ROM Utility A Obedience Champion
2011 ASCNE ROM Open B Obedience Champion
2011 ASCNE ROM Advanced Stock Dog Reserve Champion for sheep
2011 ASCNE ROM Advanced Stock Dog Reserve Champion for cattle
2011 ASCNE ROM Performance Champion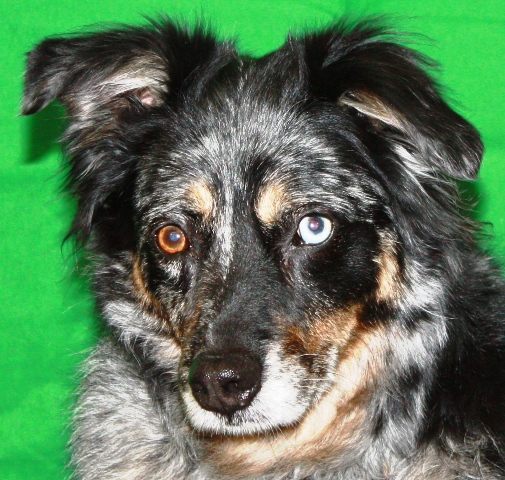 Gidget
PCH WTCH W LAZY J BROOKWOOD GIDGET CDX OFTDdsm GS-E-OP JS-E-OP RS-E DNA-VP, AKC CD RE CGC :
Gidget is an Australian Shepherd and is Carol's pride and joy and weight loss program!   She was whelped 10/16/2006 at the W Lazy J Ranch in Montana and eight weeks later took a plane trip to join us. Gidget's lines are pure working stock which adds up to a steep learning curve for a first time Aussie owner.  At less than a year old she was competing in herding and doing quite well despite her handicap of a clueless handler!  Gidget completed her WTCH (Working Trial Chapionship) on August 15th, 2010. Obedience and agility have been a challenge since those strong herding lines cause her to pay as much attention to what is going on outside the ring as inside, however she is currently on track to finish her ASCA CDX and has achieved all of her Elite agility titles. She also completed her AKC Rally titles qualifying every time she was entered. Gidget has also earned Canine Good Citizen certification and completed her Therapy Dog International requirements too.
Gidget has a bright future and already her accomplishments include:
2008 ASCNE ROM Performance Champion
2008 ASCNE Agility Champion for Novice Regular and Novice Jumpers
2009 ASCA National Agility Jumpers Competition – 3rd Place
2009 ASCA Nationals MVA competitor
2009 ASCNE ROM Agility Champion for Open Gamblers, Open Regular, Open Jumpers, Novice Regular and Novice Gamblers
2010 ASCNE ROM Performance Champion
2010 ASCNE ROM Obedience Open A Reserve Champion.
2011 ASCNE ROM Advanced Stock Dog Champion for Sheep
2011 ASCNE ROM Reserve Champion for Elite Gamblers
Gidget was bred in 2011 to the 2010 National Champion Stockdog for Cattle and Sheep and High Combined Stockdog winner, Spur. They produced a litter of 8 talented puppies and we're expecting great things from them! Art has kept Iggy, Carol has kept Meg and Kevin kept Boot. Watch for great things from these pups!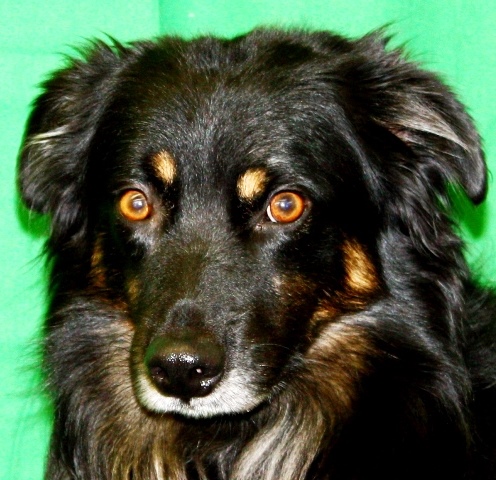 Iggy
WTCH BROOKWOOD'S SHENANIGANS CD RTDs OFTDdsm GS-O JS-O RS-O DNA-VP :
Iggy began his show career in 2012 and did an outstanding job at his first herding trial. He qualified in all 5 of his runs and completed his Started Sheep and Started Ducks titles.  He also earned High Combined Started Dog for the weekend.  At his second trial Iggy took 9 1st places and 3 2nd's and finished his Started Cattle title. Iggy finished 2012 as the #2 rated Started Duck, #2 Started Cattle and the #10 Started Sheep dog in the country according to the Merit Standings as awarded by the Australian Shepherd Club of America. On September 3, 2013 Iggy completed his Working Trial Championship at the extremely young age of just 2½. Iggy is continuing his performance career and has added Ranch Trial Dog, Farm Trial Dog and several agility titles to his list of achievements. Iggy has been kept intact and we expect him to become a great sire with the right attitude, work ethic and biddability one looks for in an Australian Shepherd.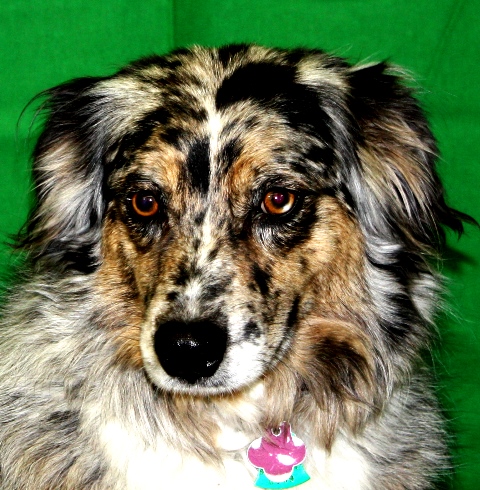 Meg
BROOKWOOD'S MEG'N WAVES STDcd CD OTDs GS-N JS-N RS-O:
Meg started her show career at an Obedience Trial (8/5/2012) and qualified twice and is 2/3 rd's of the way towards her CD title.  Gidget has now gone on and finished her Companion Dog title.